MERCURY DIRECT IN CANCER AUGUST 18-SEPT 3
MARS STATIONARY DIRECT ON AUGUST 27TH IN CAPRICORN
Mercury went stationary direct in the US on Saturday night and so hopefully we have fewer of those problems now to deal with and communications can move forward.  Still it is not a picnic of a transit  because of aspects from Mars and conjunctions to Rahu. If you are born with an afflicted Mercury in  in Cancer, it  can cause restlessness, nervousness, impatience, constraints with emotions, open to giving undue compliments and subject to nervous disorders.  Mercury considers the moon and enemy and the planet of the intellect is not comfortable in the emotional realm creating mental confusion at times.
Mercury stays in Cancer until Sept. 3rd  and it is at least 13 degree away from Mars and moving away from it but we still have to watch out for disputes and stay out of arguments–particularly when driving.   It is also moving away from Rahu which is about 7 degrees away .  It is still in the toxic constellation of Ashlesha (Cancer 16.40-29.59) where we have to watch our sharp tongue and stay away from poison and toxins and avoid accentuating the negative and focus on what that is to be grateful in our life or our mind will takeover with compounding the negative.   The end of the sign, the gandanta will be experiences Sept 1-2d and is  a troubled emotional area where people need to encounter their karmic past and unravel difficult knots and problems from past lives.
Gemini rising, and Virgo rising are likely experience deep emotional and troubling psychological turmoil in August but may find enough spiritual energy to work through the mental fray of issues connected to home, family, security, nurturing that are likely to come up in Cancer.
The good news is that this is a 2nd and 11th house transit of Mercury for Virgos and Geminis so there will be gains once you sift through delays and blockages and arguments.  The transit is more troubling for Cancer rising which does not need additional mental confusion.
Mercury does well with 2, 4, 6, 8, 10th and 11th houses transits from the Moon or Rising sign so Virgos, Libras, Sagittarius, Aquarius and Aries and Taurus will do better with the transit within the context of their dashas.  The negative aspects of Mars and Rahu and the eclipses will make it a difficult transit overall.
Mars goes stationary direct on Monday, August 27th and tends to be very powerful in the sky approximately 7 days before and after the station.   Expect big spurts of energy but if it is a malefic influence in your chart beware of angry flare ups, getting too much heat in the sun or eating spicy foods or it will irritate the situation.   The direct motion will be welcome and all those delayed projects that have been on hold or have not just been happening may suddenly get new life!
Mars has been very powerful in the sky with the Out of Bounds Status where it has been acting as if it has been on steroids. (see my article: https://www.appliedvedicastrology.com/2018/07/04/mars-out-of-bounds-july-6-sept-29th-wild-and-crazy/ 
This is good for extra energy but is a bit wild.  This is also understood astronomically with Mars being the closest to the earth since 2003.   It is over 5 degrees away from Ketu now which has helped the explosive anger issue a bit but they will move back toward each other into the next and final conjunction into Sept. 22nd in the mean node system.
So some forward process coming. Still have to get through the final ugly days of the Venus debilitation until Sept. 1st where we have to be less critical in relationship and not expect our partner to be perfect or to be so hard on them that we ruin things.
Need help with your chart?  Sign up for a reading under the request tab at www.appliedvedicastrology.com  
FREE CLASS ON THE SECRETS OF VEDIC RELATIONSHIPS ANALYSIS:
Free first class on Go to Webinar on Saturday, August 25th from 12-2 pm.  Sign up at:
SECRETS OF VEDIC RELATIONSHIPS AND COMPATIBILITY
 Secrets of Relationship is 7 tapes and 14 hours.  Watch it at your own leisure.  195.00. Available at:
https://www.appliedvedicastrology.com/vedic-relationships-mini-course-january-6-27-2018/
We are starting to take pre-orders for our new book:
LOOKING UP THE MAGICIAN'S SLEAVES:  USING ASTROLOGY TO SEE YOUR BLIND SPOTS AND HIDDEN UNCONSCIOUS PATTERNS:
Spiritual, Emotional and Psychological Wisdom to Guide You Though the Realms of Fear and Illusion.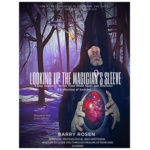 Pre-Order Discount for  Your Copy of Barry Rosen's New E-Book Today!
Available by Sept. 19th 2018!
The deepest purpose of Vedic Astrology should allow us to see the Maya or illusion that runs through our mind and blocks us from seeing our own Divinity. Astrology should reveal our hidden patterns and not just affirm what we know about our self already. It is our hidden patterns and blind spots which get us into the most trouble and cause us the most suffering. It takes courage to look at them, bring them into the light and transforms them but that is why we are on the planet. It is much like Bill Murray in Ground Hog Day (1993). How many times do we have to repeat our lives and relive our pain or do we realize our flaws and actively work on them and transform ourselves into a more conscious and active and loving and compassionate person. In this brilliant collection of essays divided into 4 sections, Psychological and Emotional and Spiritual Dimensions of Vedic Astrology, Secrets of the Houses, Spiritual Astrology and Advanced Techniques in Vedic Astrology, Barry reveals material beyond the ordinary in unveiling our True Self beyond the illusion.  Pre-order special is 15.95.  Book is available by Sept. 19th at the latest. E-book version.
Pre-order at: https://www.appliedvedicastrology.com/product/looking-up-the-magicians-sleeve/