EYE ON THE SKY: Sun conjunct Jupiter in Scorpio: November 25-26th
In Medieval astrology and by experience, Sun conjunctions are very powerful in a positive way.  Medieval astrologers used to refer to this condition as, Cazimi, or being "in the heart" of the Sun. Instead of burning up the planet and preventing it from producing its significations, Cazimi gives the combust planet a spiritualizing boost that adds strength to the planet rather than weakening it so the planet is actually not harmed or overpowered by the Sun's fiery light. This can lead to  an enhanced state where the planet becomes inseparable with our spirit.  There is a disagreement around the intensity of Cazimi from 17-40 minutes but I think that even an orb of 1 degree in a natal chart or transit can be looked at.  .
Jupiter is conjunct the Sun on Sunday, November 25th at 10:30 pm EST which means some of the energy will overlap into early Monday    For Leos, the energy will be very high and charged with wisdom, confidence, enthusiasm, expansion and comfort as the Sun will take on the energy of Jupiter and they are friends, so the Sun is uplifted.
For a day, Jupiter will be infused with Divine optimism and energy.  Still for Jupiter, and Pisces and Sagittarius rising, it is not a great thing the few days before and afterwards.   The Jupiter combustion creates false optimism, which can feel great, but then reality can set in after all the false hopes.
Make practical decisions over the next few weeks and stay out of the Pisces cloud of optimism. Jupiter governs the liver and it may be afflicted these next few weeks so drink fresh organic squeezed lemon in some hot water in the morning to get that liver moving. All forms of the twist in Hatha yoga support the liver and help squeeze out toxins. You may need to do the Cow face pose (Gomukhasana) to energize the liver over the next few weeks.
The good thing about the conjunction is that those ruled by the Sun are energized greatly by Jupiter's exalted warmth and this may help leadership and self-confidence. All of this is taking place in Saturn's constellation of Anuradha (Scorpio 3.20 – 16.40), which brings in the great deity  of Mitra the Divine networker and spiritual nurturer.
So Sunday looks to be a very spiritual day so enjoy church or going to temple or doing your spiritual practices as there will be extra energy.
***************************************************************************************
GET READY FOR THE NEW YEAR WITH A READING FROM BARRY ROSEN
Many types available:  Visit: https://www.appliedvedicastrology.com/Types%20Of%20Readings/
*********************************************************************************************
NOW AVAILABLE TO WATCH AT YOUR OWN LEISURE: NOW ON SALE FOR 149.00 FOR A FEW MORE DAYS.
SECRETS OF THE NAVAMSHA CHART OR D-9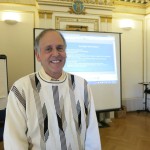 Videotape course to watch at your leisure and download from Dropbox
This is the first part of our essential varga class. 
Covers:
How to read Varga Charts?
How to interpret the D-9 chart and compare it to the D-1 chart. (Bhava Suchaka and Rasi Tuyla) or House transposition techniques.
Techniques for rectification.
Multiple uses of the D-9 Chart for hidden strengths, talent, disappointments.
Navamsha and Relationship Prediction
Basics of Jamini Astrology and Rotated Navamsha Chart for Soul Inquiry.
Karakamsha Rasi and Karakamsha Navamsha Charts.
People born on the same day with the same rising sign are very different and even twins born minutes apart are very different.  Vedic astrology is like reading strands of DNA.  You can go very deep in understanding Karma when you look at the divisional charts and see how they interact with the main chart.
This course seeks to offer deeper depth into seeing the deeper values operating and when they manifest in someone's life.  We will focus on the most used and needed Varga chart which is the
A basic knowledge of Vedic astrology is required. The class is being geared to benefit basic astrological students as well as those with a more advanced background. Please email questions directly to Barry Rosen at barry@appliedvedicastrology.com.
Lesson 1: Introduction to  the Principles of Using Varga Charts for Refining Analysis 
First Class Free on You Tube: https://www.youtube.com/watch?v=KqozL2jM01w
Lesson 2-3:   Rectifying Charts –A Quick How-To Guide;  Essential Principles and Rules for Interpreting  Vargas Part 2  
Understand House Transpositions: Bhava Suchaka and Rasi Tuyla and Navamsha Rasi Tuyla 
Lesson 4-5  The Navamsha Chart or D-9  Part 1 -2
Hidden Qualities of the Soul 
Lesson 5 Bonus Tapes: Intro to Jamimi Astrology–Two Tapes 
Lesson 5: Advanced Uses of the Navamsha Chart:  Part 3
Soul Lessons and Talents and Life Purpose 
Lesson 6: D-9  Secrets of Relationship  (two bonus tapes) 
(9 Total Lessons, Articles, Power Point Outlines)
THANKSGIVING WEEKEND SPECIAL PRICE AT 149. 00 AFTER NOV. 27TH 195.00
SECRET OF THE NAVAMSHA CHART–FROM RELATIONSHIP TO DEEP SOUL ANALYSIS