DISCOVERING OUR UNCONSCIOUS PATTERNS AND BLIND SPOTS PART 1
The deepest purpose of Vedic Astrology should allow us to see the maya or illusion that runs through our mind and blocks us from seeing our own Divinity.  Astrology should reveal our hidden patterns and not just affirm what we know about our self already.  It is our hidden patterns and blind spots which get us into the most trouble and cause us the most suffering. It takes courage to look at them, bring them into the light and transform them but that is why we are on the planet. It is much like Bill Murray in Ground Hog Day (1993).  How many times do we have to repeat our lives and relive our pain or do we realize our flaws and actively work on them and transform ourselves into a more conscious and active and loving and compassionate person.
The whole chart reveals our talents and our flaws. There are many areas of Vedic Astrology that allow us to see patterns that we may be blind too. Here is a quick list of some of the ways that our karma bind us to illusion and making mistakes which cause suffering. Each category needs to be developed in a few articles and there are chapters in my book and my Videotaped course on the material is available.
Below is categorization of some of the ways our blind spots turn up in Vedic Astrology:
MENTAL CONFUSION FROM AFFLICTIONS TO MERCURY OR MOON:
Mental Confusion—Mercury or Moon afflictions or afflictions to the 4th house or the  25th Nakshatra from the moon can distort the way our mind perceives and misperceives things. For example, a Moon/ Mercury opposition or association will create mental confusion so you do not want Mercury in Cancer or Moon in Gemini and can create emotional imbalance, difficulty in communication and poor judgment.
AFFLICTIONS TO THE 4TH HOUSE:
Afflictions to the 4th house by malefics . The 4th house is the conscious mind and put Saturn in there or Saturn owning the 4th house as in the case of Capricorn or Aquarius rising and their may be too much mental anxiety if Saturn is afflicted. Put Mars in the 4th house and continued anger and hostility can cloud the mind.
AFFLICTIONS  TO THE 5TH HOUSE:
The 5th house shows our ability to learn from our past experience and not repeat mistakes. You want benefics like Jupiter associated with the 5th house to give solid judgment and you do not want malefics like Rahu or Saturn here with poor dignity because it will cloud judgment and allow repetition of mistakes and to make wrong choices.
PLANETS IN THE 7TH AND 12TH HOUSES:
The 12th house is occurring just  before sunrise and so planets in the 12th house are natural blind spots and unconscious patterns that we cannot see.  Put Mars there and you may need see your repressed anger or aggression. Put Rahu there and you may be unconscious of how our business practices are not ethical.  Put Venus there and you may not be conscious of your tendencies to overspend and get into debt.
AFFLICTIONS TO THE 7TH HOUSE:
The 7th House is  partnerships and relationships but it is happening when the Sun is going down and we cannot see planet and their influences here clearly. All planets are considered problematic in the 7th house and are considered weak and that is why the energy around sunset is always a vulnerable time to do new things. Mercury here may lead us to attracting partners that have affairs but we may be blind to seeing it or believing it.
AFFLICATIONS TO THE 3RD HOUSE: 
The 3rd house is a kind of Freudian ID or core subconscious area of the mind as it is 12th from the 4th house. Hence core drives for power, sex and aggression can manifest here and create problems that we cannot see.  Put an afflicted Venus here and you may have too strong a sex drive that you are not aware of.  Put an afflicted Mars here and  you may be too violent and aggressive and not aware of it.
RAHU AND KETU:
The placement of Rahu in chart will create a strong desire or drive in your life and when afflicted may lead to addiction and cravings for money, sex, food or relief from our unconscious psychological suffering.  Whatever house Ketu is in will create a feeling of not enough or not good enough in that area of life and block us from achieving in the world and drive us toward spirituality.
ENJOY A WHOLE BOOK ON THIS MATERIAL OR TAKE OUR 26 HOUR CLASS ON VIDEOTAPE TO WATCH AT YOUR LEISURE:
Book is available for automatic download in PDF for 19.95 on the home page of our website at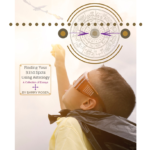 Also on Amazon for 24.95 in Paperback.  www.amazon.com
SALE ON OUR BLIND SPOTS COURSE UNTIL MARCH 1ST 
Understanding Your Hidden Flaws and Blind Spots: Diagnosing and Remedies for Hidden Patterns in Your Personality: Moving Beyond Mental Blocks and Suffering
Email us at barry@appliedvedicastrology for questions.

Need help with your blind spots? Get a reading from Barry by clicking the Reading Tab at www.appliedvedicastrology.com.