NEW BOOK STATUS: 
Our new book is available now.  Finding Your Blind Spots: Using Astrology: A Collection of Articles by Barry Rosen.
Using Spiritual, Emotional and Psychological Wisdom to Help You Uncover Your Hidden Flaws, Illusions and Unconscious Patterns for a Better Life.
Color PDF download: 19.95.   Amazon hard-copy soon in black and white at 24.95.
The previous title was called: Looking up the Magician's Sleeve and the title was based on a poem I wrote about Saturn which I am reprinting below.  We have not changed the cover on our website but the special pre-publication price of 15.95 is available for one more day and goes up to 19.95 on Oct  25th.  Hard copy on Amazon will take a few more weeks to get up there and will be 24.95.

FINDING YOUR BLIND SPOTS  USING ASTROLOGY: 
SPIRITUAL, EMOTIONAL AND PSYCHOLOGICAL WISDOM TO GUIDE YOU THROUGH REALMS OF FEAR AND ILLUSION
Barry's spiritual and psychological approach to astrology seeks to cut the puppet strings of the planets that impact our emotions and psychology and bind us to self-blame, doubt and fear, and anger.  This useful guide will help you navigate your life.
AVAILABLE NOW IN PDF FORMAT
Sections:
Book in 7 Sections:
Philosophical and Psychological Dimensions of Vedic Astrology
 Blind Spots in Vedic Astrology and those Hidden Patterns.
Secrets of the 12 Houses–over 15 articles.
Managing Saturn in Your Chart.
Psychological and Emotional Realms of Interpretation for Signs, Retrogrades, Combust Planets and more.
Articles on Relationship
Articles connecting Vedic Astrology to Spirituality and Patanjali.
Here is the original cover: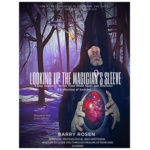 Here is the closing stanza from the poem I wrote with the full poem in the book. It inspired the original title:
The purple dragon is guarding the gate.
His billowing flames
block the light —
and yet there are no flames.
Walk courageously through his mouth
into cool waterfalls of laughter.
You are safe.
You are forever safe
in the loving play of the universe.
like the hummingbird floating from comet to comet
rejoicing in the infinite supply of nectar
and dancing on air.
Laugh at Saturn, the great magician.
Demand to look up his sleeves.
Jump off the cliff into
God's arms
And relax softly into his Divine net.
–Barry Rosen