EYE ON THE SKY: SATURN SEXTILE SUN FEB. 25TH
Saturn casts its sneaky 60 degree angle onto the Sun exactly this weekend and because the Sun rules Sunday and it afflicted, the energy might seem more intense than normal.   One has to
watch health issues during this transit and beware of rebelling against authority
figures like bosses or government officials.   If you have high blood pressure, do your best to stay out of stressful situations and manage it. If you have heart issues, also make sure to take care of yourself.
Aquarius is a very innovative sign but when the Sun is afflicted during this transit,
if you are Aquarius rising or Aquarius Sun, it can bring up low self-esteem, lack of
self-promotion, rebellious activism, depression, cynicism, gullibility, isolation. So
despite not wanting to be social, you are going to have to get out there! Venus
will be supportive of relationships and prevent those energies from getting out of
hand.
Saturn/Sun aspects create father/son tensions, problems with bosses and employees and other authoritative figures so watch speeding this weekend unless you want an encounter with your friendly officer.   If you are Leo or Aquarius rising, the impact of this aspect will be more or if you are running a Saturn/Sun or Sun/Saturn period than it could produce a more major event. For most people, there may only seem to be a bit of extra tension this weekend.  Manage it with yoga, meditation and breath work.
If you need help understanding your chart, view our services at http://appliedvedicastrology.com/category/services/ 
Want to learn more about the Secrets of the Nakshatras and how to read them and how to use them for timing key events in your life?  Our new course starts March 11th.  See click through ad for more details below>
Download a copy of our new book:
which fellow astrologers are acclaiming:
"This almanac is truly a masterpiece and labor of love. Barry is a gifted astrologer and writer. I have written yearly forecasts for over 30 years and understand the work, knowledge and dedication involved. It is so complete with everything a beginner or advanced student of astrology would need. The references to the planet's transit through the signs, nakshatras, aspects, dates and times, plus their interpretations is fantastic. He even covers the effects these will have on individual countries. I am sure I will be referring to this manual frequently throughout the year."
Joni Patry, author and Vedic Astrologer
Available on our home page at www.appliedvedicastrology.com
in color for 24.95 or in black in white hard copy on Amazon for 29.95.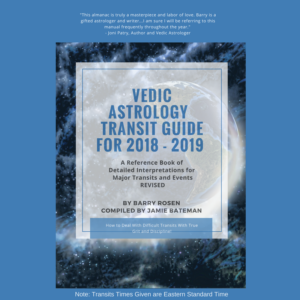 If you need help understanding your chart, view our services at https://www.appliedvedicastrology.com/category/services/ or take our new class on Nakshatras starting on Sunday, March 11th for 10 sessions over Go to Webinar.
https://www.appliedvedicastrology.com/secrets-nakshatras-profound-psychological-predictive-magic/